Regular price
Sale price
$189.00
Unit price
per
Sale
Sold out
SIZE GUIDE
Our New PETE Down Ladies' Parka:
The main benefits of PETE synthetic insulation are that it performs when damp, it dries fast, and is usually more moderately priced than down.
. PETE down insulation offers smart option to real down feathers.
. 100% sustainable recycled fibers that acts total freedom of design.
. High performance & warmth-to-weight ratio -35c
. light weight ripstop shell DWR [durable water repellent] to protect against moisture.
. 225 gsm PETE down insulation made of post consumer recycled contents.
. extra soft and hand-feel, highly compressible and it maintains warmth.
JACKET
Core Fit
Water Resistant outer shell - 100% nylon
Wind stopper panel
Removable hood
Fur trim at hood
Chin guard
Soft fur lining 
Adjustable cuffs with elastic & Velcro
YKK zipper on zip snap front closure and pockets
Inside name label with Velcro pockets
Machine Washable

Style: PISONA:
sizes S-XL
PISONA+:
sizes 2XL-3XL
Share
View full details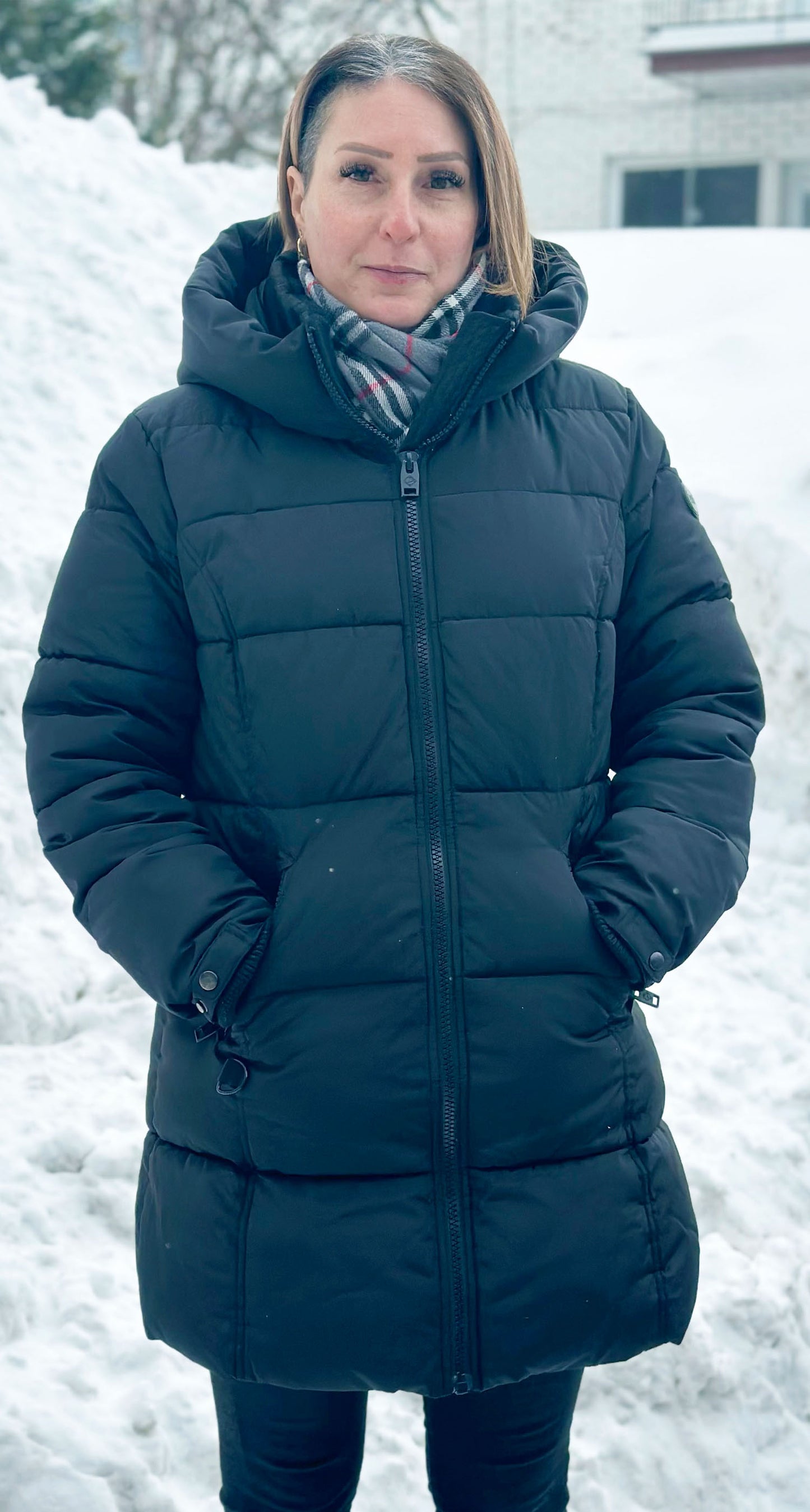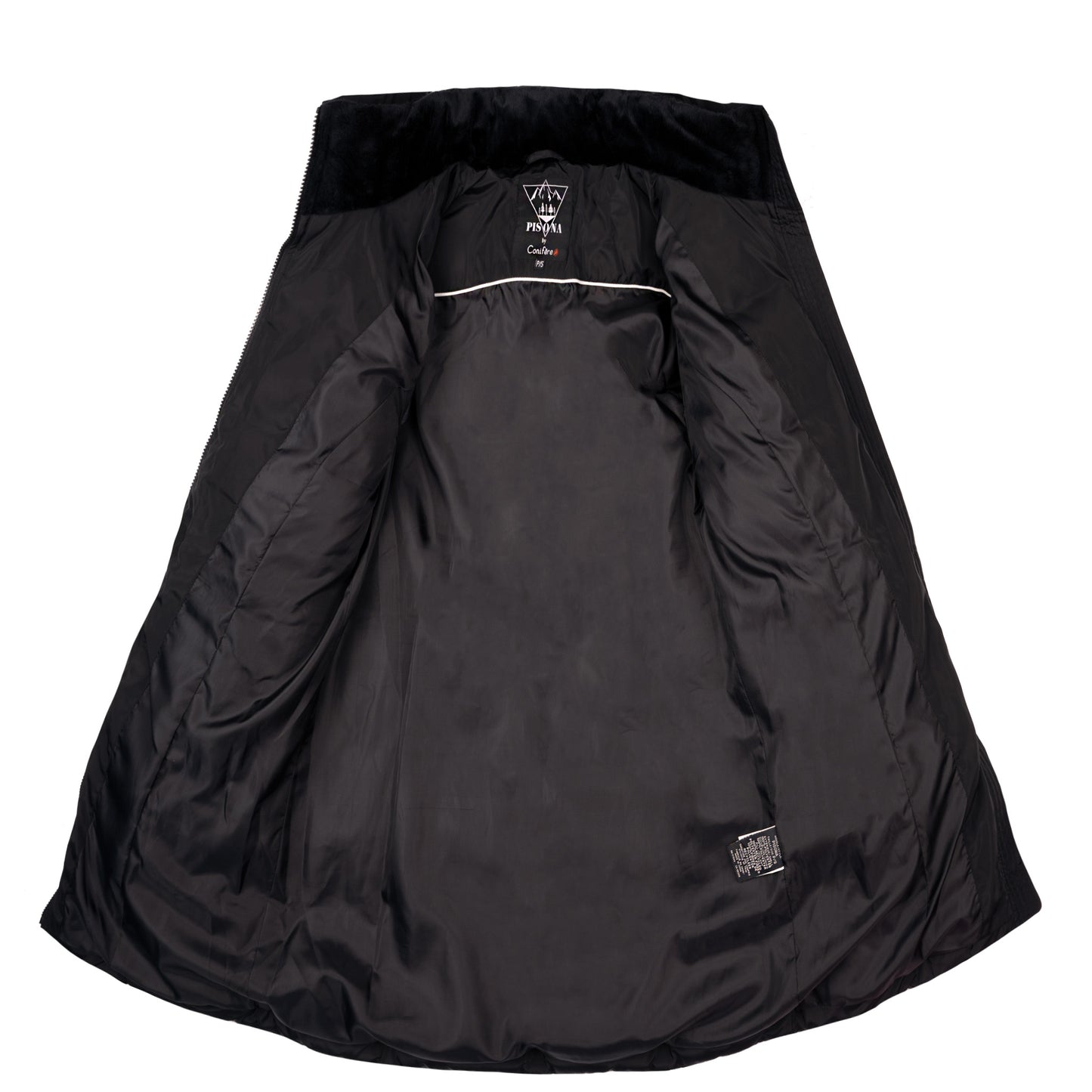 Size chart
Girl's Winter jacket (measured flat in centimeters)
| | | | | | | | | | | | | | | |
| --- | --- | --- | --- | --- | --- | --- | --- | --- | --- | --- | --- | --- | --- | --- |
| |  SIZE RANGE | 2 | 3 | 3X | 4 | 5 | 6 | 6X | 7 | 8 | 10 | 12 | 14 | 16 |
| A | CHEST AT ARMHOLE | 39 | 40 | 41 | 42 | 43 | 44 | 45 | 47 | 49 | 51 | 53 | 55 | 57 |
| B | WAIST | 38 | 39 | 40 | 41 | 42 | 43 | 44 | 46 | 48 | 50 | 52 | 54 | 56 |
| C | BOTTOM OPENING | 39 | 40 | 41 | 42 | 43 | 44 | 46 | 48 | 50 | 52 | 54 | 56 | 58 |
| D | SLEEVE LENGTH FROM MID NECK TO EDGE(approx) | 51 | 53 | 55 | 57 | 59.5 | 62 | 64 | 67 | 70.5 | 73.5 | 77.5 | 80.5 | 83.5 |
| E | TOTAL LENGTH AT FRONT | 43 | 46 | 48 | 49 | 51.5 | 54 | 56 | 57.5 | 60 | 62.5 | 65 | 67.5 | 71 |
Boy's Winter jacket (measured flat in centimeters)
| | | | | | | | | | | | | | | |
| --- | --- | --- | --- | --- | --- | --- | --- | --- | --- | --- | --- | --- | --- | --- |
| |  SIZE RANGE | 2 | 3 | 3X | 4 | 5 | 6 | 6X | 7 | 8 | 10 | 12 | 14 | 16 |
| A | CHEST AT ARMHOLE | 39 | 40 | 41 | 42 | 43 | 44 | 45 | 47 | 49 | 51 | 53 | 55 | 57 |
| B | WAIST | 39 | 40 | 41 | 42 | 43 | 44 | 45 | 47 | 49 | 51 | 53 | 55 | 57 |
| C | BOTTOM OPENING | 39 | 40 | 41 | 42 | 43 | 44 | 46 | 48 | 50 | 52 | 54 | 56 | 58 |
| D | SLEEVE LENGTH FROM MID NECK TO EDGE(approx) | 51 | 53 | 55 | 57 | 59.5 | 62 | 64 | 67 | 70.5 | 73.5 | 77.5 | 80.5 | 83.5 |
| E | TOTAL LENGTH AT FRONT | 43 | 46 | 48 | 49 | 51.5 | 54 | 56 | 57.5 | 60 | 62.5 | 65 | 67.5 | 71 |
Snow Pants (measured flat in centimeters)
| | | | | | | | | | | | | | | |
| --- | --- | --- | --- | --- | --- | --- | --- | --- | --- | --- | --- | --- | --- | --- |
| |  SIZE RANGE | 2 | 3 | 3X | 4 | 5 | 6 | 6X | 7 | 8 | 10 | 12 | 14 | 16 |
| B | WAIST | 29 | 30 | 31 | 31 | 32 | 34 | 35 | 36 | 38 | 40 | 42 | 44 | 46 |
| F | HIPS | 34.5 | 35.5 | 36.5 | 41 | 42 | 43 | 44 | 46 | 47 | 49 | 51 | 52 | 54 |
| G | INSEAM | 37 | 39.5 | 42 | 45 | 48 | 51 | 54 | 59 | 61 | 63 | 65 | 67 | 69 |
Infant 1-piece Snowsuit  (measured flat in centimeters)
| | | | | |
| --- | --- | --- | --- | --- |
|  SIZE RANGE | 9M | 12M | 18M | 24M |
| CHEST | 38.5 | 39 | 39.5 | 40 |
| SLEEVE LENGTH (approx) | 23.5 | 24.5 | 26 | 28 |
| INSEAM | 19 | 20.5 | 23.5 | 26.5 |
| TOTAL LENGTH | 62.5 | 64 | 67 | 70 |
Kid's 1-piece snowsuit (measured flat in centimeters)
| | | | | | | | | | | | | | | |
| --- | --- | --- | --- | --- | --- | --- | --- | --- | --- | --- | --- | --- | --- | --- |
| |  SIZE RANGE | 2 | 3 | 3X | 4 | 5 | 6 | 6X | 7 | 8 | 10 | 12 | 14 | 16 |
| A | CHEST AT ARMHOLE | 39 | 40 | 41 | 41.5 | 42.5 | 43.5 | 44.5 | 47 | 49 | 51 | 53 | 55 | 57 |
| B | WAIST | 39 | 40 | 40.5 | 41 | 41.5 | 42 | 43 | 46 | 48 | 50 | 52 | 54 | 56 |
| C | INSEAM | 41 | 42 | 44 | 47 | 49 | 51 | 54 | 56 | 57 | 58 | 58 | 61 | 63 |
| D | SLEEVE LENGTH FROM MID NECK TO EDGE(approx) | 51 | 53 | 55 | 57 | 59 | 61 | 63 | 65 | 69 | 71 | 74 | 79 | 83 |
| E | TOTAL LENGTH From HSP TO BOTTOM | 103 | 105 | 107 | 110 | 112 | 115 | 118 | 120 | 123 | 126 | 128 | 131 | 135 |
Sportswear (measurements in centimeters)
| | | | | |
| --- | --- | --- | --- | --- |
|  SIZE RANGE | WEIGHT/POIDS | HEIGHT/HAUTEUR | WAIST/TAILLE | HIPS/HANCHES |
| S (7-8) | 58-70 lbs | 48-52 | 23-24 | 27-28 |
| M (10-12) | 72-85 lbs | 53-57 | 25-26 | 29-31 |
| L (14) | 85-95 lbs | 58-63 | 27-28 | 32-34 |
Gloves  (measured flat in centimeters)
| | | | | |
| --- | --- | --- | --- | --- |
|  SIZE RANGE | S (7/8) | M (9/10) | L (11/12) | XL (13/14) |
| LENGTH FROM TOP TO WRIST | 16 | 17.5 | 19 | 20 |
| TOTAL LENGTH | 24 | 25 | 27 | 28 |
| WIDTH AT KNUCKLES | 11 | 11.5 | 12 | 12.5 |
Mittens (measured flat in centimeters) 
| | | | | | |
| --- | --- | --- | --- | --- | --- |
|  SIZE RANGE   | XXS | XS | S | M | L |
| AGE | 2-3 | 4-5 | 6-7 | 8-9 | 10 |
| PALM LENGTH (from finger tips to wrist line) | 12.5 | 13.5 | 14.5 | 15.5 | 16.5 |
| PALM WIDTH | 7.5 | 8.5 | 9 | 9.5 | 10 |
| WRIST WIDTH RELAXED | 7.5 | 8 | 8.5 | 9 | 9.5 |